Embedded Insurance
How to take the headache out of Embedded Insurance.
You can't miss it: the phrase Embedded Insurance appears on the scene more and more frequently and is often described as a megatrend, but what's actually behind it? We answer all important questions concerning all aspects of embedding insurance.
Published 01 Feb 2023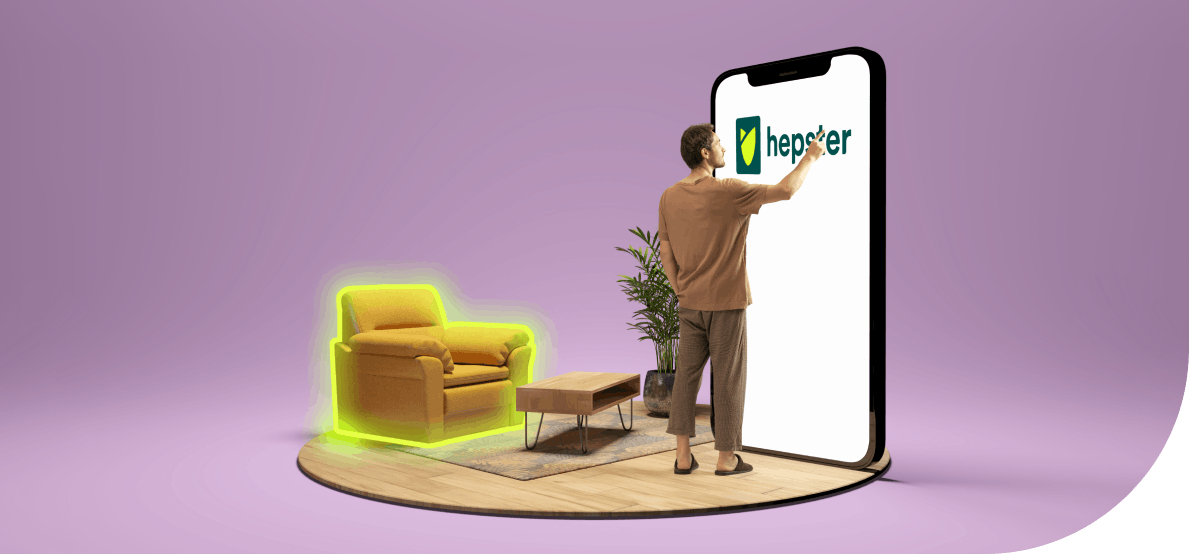 Let's get it straight: What is Embedded Insurance?
Embedded insurance is a new concept for the insurance industry that allows companies to integrate insurance services directly into their own products and services. Companies can thus integrate insurance products directly into their product or service stack, providing their customers with an easier and faster way to get the insurance services they need.
Well, one thing is for sure: according to the embedded insurance concept, traditional insurance policies with inflexible insurance products, outdated technology and a lack of innovation belong to the 90s. And here are the benefits: Companies can use embedded insurance to increase customer satisfaction, reduce costs and generate additional revenue.
Why is now the right time to get into Embedded Insurance?
It's quite simple: digital transformation is here to stay and is obviously also impacting the insurance industry. This also has a major effect on customers' requirements for products and services. Gen Z and Alpha (the generations after Millennials) in particular are placing higher demands on companies than previous generations. These include having more options, a better understanding of insurance offerings, and a more user-friendly buying process. The solution to this is called embedded insurance. Embedded insurance offers new opportunities to reach and engage with customers. That's not all, there are also new ways to protect and support customers in the best possible way. On the one hand, companies can offer all-in-one packages that fully meet customers' needs by integrating insurance products directly into their customer journey. On the other hand, embedded insurance enables companies to reduce costs and improve the efficiency of their insurance business. Joining the embedded insurance movement, therefore, offers a host of advantages, which we will explain in more detail below.
Generally, however, the development is not only taking off in Germany but worldwide. More and more companies are using embedded insurance. This is why now is the perfect time to get involved with this topic so that companies don't miss out on this trend and the opportunities that embedded insurance can offer them.
How does Embedded Insurance work?
So, we know: with embedded insurance, insurance is offered directly together with a product or service. The insurance is embedded in the offering. Let's look at a few examples from a customer's perspective:
I buy an e-bike online and take out the appropriate insurance for my new bike directly with one click during the buying process and I no longer have to worry about taking out insurance separately.
The new iPhone is finally on the market, and with the right electronics insurance, I'm covered right from the start against damage caused by dropping my phone or moisture.
The next vacation is coming up. If I can take out the right travel cancellation and/or international health insurance right away while I'm doing all the planning during the vacation booking process, there's nothing left to do but relax.
These examples show that the embedded insurance solution offers huge potential for making insurance tailored, simple, and accessible to everyone. With the help of API connections or plug-in solutions, insurance is seamlessly integrated into the customer journey. Insurance is offered directly at the point of sale, as an add-on to the product or service. The insurance product acts dynamically and offers insurance that is tailored to the specific situation. Thanks to digital connectivity, ordering, payment, and providing all relevant documents, such as the insurance terms and conditions, take place in real-time for the customer. Claims settlement and customer support are also covered by the insurance companies, all digitally, of course.
This is how the customer journey for embedded insurance could look like: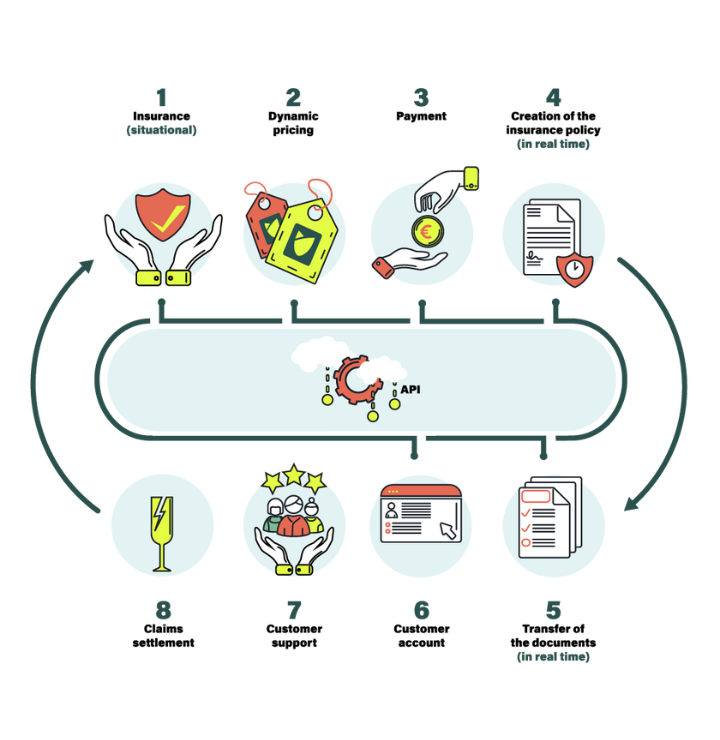 What are the benefits of Embedded Insurance for businesses?

1. Easy integration: one of the biggest advantages of embedded insurance is the simple, digital and seamless technical integration into existing booking processes and online shops. Leave paperwork in the past.
2. Fast handling: compared to traditional insurance products, claims and losses can be handled faster with embedded insurance because the process is fully digital.
3. Flexibility: embedded insurance service providers enable e-commerce partners to offer the type of insurance products that best fit their own and their customers' needs. The keyword is customer-centricity.
4. Cost efficiency: embedded insurance offers a cost-effective alternative, as it not only lowers the cost of the insurance process but also reduces the administrative workload. Win-win for everyone.
5. Increased customer satisfaction: embedded insurance solutions enable companies to offer their customers a full buying experience. And that includes also everything after the purchase, like customer support and claims settlement. Customers love it.
6. Differentiation from the competition: by offering embedded insurance in their own customer journey, companies can differentiate themselves from those competitors who still stick to traditional insurance. This may lead to an opportunity to catch up with the competition.
What does embedded insurance mean for insurance companies?
Compared to traditional insurance concepts, the embedded insurance concept means that customers no longer interact with the insurance company when taking out insurance. When making a purchase, the customer only comes into contact with the company offering the product or service. The insurance company is, let's say, invisible to the customer. Accordingly, insurance companies are also called "invisible insurers." Of course, the tried and tested system of the insurance industry will survive, but not in the way we are used to it. Insurance companies will have to be prepared for this in the future.
Conclusion
All signs point towards embedded insurance - you can see and hear it everywhere. Digital transformation means that the insurance industry is also changing. Customers' requirements are changing towards "insurance at one click". They demand simple and digital insurance offerings, as well as a smooth purchasing process. With the help of embedded insurance, companies can meet these requirements.
The concept of embedded insurance offers companies the opportunity to easily and digitally integrate insurance into any existing booking processes and online shops. Companies can benefit in many ways by offering an all-in-one package: they can generate new revenue potential, save costs and efficiency, increase customer satisfaction and differentiate themselves from the competition.
One last question remains: What happens if companies miss out on jumping on the embedded insurance trend?
The situation is quite clear: it seems that the embedded insurance trend is becoming more and more important. Companies that stick to old traditions and miss out on embedded insurance may run the risk of not being able to maintain their market position in the future.
Got interested?
Let us show you how embedded insurance with us works for our partners.