Customer Experience
Customer Touchpoints. A customer journey that you may not have seen before.
There are many moments along your customer journey that you can use to give your business a little extra boost. Find out what they are and how easy it is to do.
Published 06 Aug 2023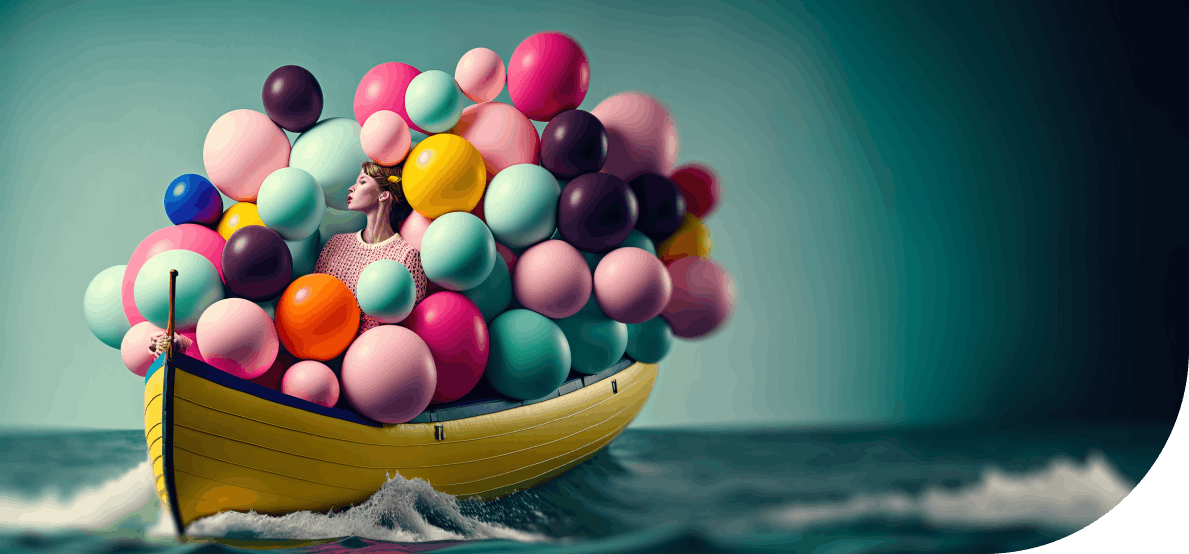 What are customer touchpoints?
Let's start with the basics: Customer touchpoints are the moments and places where a customer comes into contact with a company or its offerings. These touchpoints can be located at various points along the entire customer journey - before, during, and after the purchase. These touchpoints are key because they are where companies engage, win and retain customers. Touchpoints can be both analogue and digital, i.e. a newspaper article is just as much a touchpoint as an ad on social media or a blog. In addition to the general digital transformation, human touchpoints must of course also be included in this list. After all, face-to-face customer conversations or telephone support continue to play an important role.
However, a clear separation is not possible, because: All types of touchpoints can be mixed with each other. Here is a practical example: A customer sees a print advertisement for your products and then goes to your website for specific information before going to a nearby retailer for professional advice.
As a company, you have different contact points at which your customers come into contact with you along their customer journey and come across your brand, your products or your services.
Services is a good buzzword here. Now, as a company, you also have the option of integrating additional services for your customers into your customer journey. Insurance, for example. Your customers become aware of this extra service or add-on, matching your products with the help of different touchpoints. That's what we want to dive into in this blog post. And we'll now take a look at exactly which touchpoints these are.
What touchpoints are there along the customer journey?
Previously, we mentioned that in addition to human touchpoints, a distinction can be made between digital and analogue touchpoints. Here, we focus on the last two and give you practical examples from various industries:
Digital touchpoints
1. In the online shop
Before customers add a product to their shopping cart, it is possible to draw their attention directly to optional and suitable insurance for the product in a company's online shop.
Let's take an example: A customer decides to buy a new e-bike in your online store, clicks on the appropriate e-bike insurance in a checkbox for their selected e-bike, and adds both to your shopping cart. Then the ordering process follows as usual. In the background, the document dispatch of the insurance runs automatically and in real-time directly to the customer by e-mail - without forwarding to external pages and disrupting the ordering process along your customer journey.
2. In the shopping cart
The customer has already placed the desired product in the shopping cart, where they will find the option to add optional insurance before making the final purchase.
Take the following example: A customer decides to buy the latest smartphone on the market from your online store based on a special offer and has already placed it in the shopping cart. Before clicking on "Buy now," the customer is offered the option of taking out the appropriate smartphone insurance, at the same time. The insurance also lands in the shopping cart with one click, and the purchase process starts as usual. Here, too, everything relevant is sent to the customer by e-mail.
3. In a newsletter
Customers receive newsletters with product updates and more. Why not also send a newsletter with insurance offers? Also, here, a touchpoint could be integrated for insurance for an already purchased or even new product.
Here's an example: Your loyal customer has booked their vacation on your travel platform for years. Every year, they receive a newsletter from you with attractive travel offers. At the same time, travel cancellation insurance and/or international health insurance can be integrated into your newsletter in line with the respective travel offers. The customer does not have to take care of extra insurance and books in one step.
4. In after-sales e-mails
After purchasing a product, a customer receives a confirmation e-mail with more detailed information and is also advised to take out the appropriate insurance.
To give you an example: After purchasing a high-quality GoPro from your online shop, the purchase is confirmed by an e-mail from you. In your e-mail, you point out the option of action cam insurance to the customer, who then decides to take out the appropriate protection.
Analog touchpoints
1. In the store
In-store, there are many ways to promote additional products - from display stands and posters to LED walls. Additional products also include in-store insurance.
An example: In your surf store, you also offer high-quality stand-up paddle boards. Flyers are attached directly to the boards, recommending the benefits of a suitable SUP insurance policy and using a QR code to link to a landing page for taking out the insurance.
2. At the POS
Insurance policies are embedded directly in the merchandise management system.
For example: In your shop for pet supplies, your customer buys food for his new German Shepherd puppy. At the checkout, a display draws their attention to dog health insurance. After a consultation about the benefits, they decide to take out the insurance. You enter all the relevant data of the animal directly into your system and thus conclude the insurance for the customer.
3. As package insert ad
A package insert is integrated within the package of the purchased product, which contains information about an insurance policy matching the purchased product.
One example: A customer has ordered a new bicycle trailer from your online shop. When opening the package, they come across a flyer attached to the trailer. On the flyer, they find information about suitable bicycle trailer insurance, as well as a QR code, which leads directly to more details and booking.
Insurance as an extra boost
At this point, you're probably asking yourself: Fine, so integrating insurance is diverse, quite simple, and holds many benefits for my customers. But how does it benefit me as a company?
First of all, customers who receive a combined product and insurance package from you are more satisfied. And satisfied customers strengthen your customer loyalty and thus automatically ensure repeat purchases and recommendations.
Furthermore, insurance offers you opportunities for cross-selling and up-selling. By providing attractive commission models and selling insurance, you can give your sales a small but powerful boost.
If you then also have the option of digitally integrating insurance into your customer journey, you differentiate yourself from the competition. Insurance quickly and easily - without any paperwork. The magic word here is embedded insurance.
Do you want to know how exactly the integration of digital insurance works and what other advantages it offers you? Then we have the right thing for you here: Our further blog post on embedded insurance
And now?
There is actually nothing left to stop you. In fact, you could get started right away. Pick out the touchpoints that suit you and tap the keys (or pick up the phone). We are ready. Are you?
Don't waste any more time.
Get that extra boost for your business and let's find out together which solution suits you best.