More is more: with the
matching product protection
Today's customers want flexibility - flexible offers, flexible tariffs, flexible options, flexible payment methods. And yes, flexible add-ons like insurance, too. Seamlessly integrated at the point of sale, they offer your customers added value directly during their purchase and even beyond. Our partner notebooksbilliger.de wanted to offer their customers exactly this flexibility.
New and even more flexible: NBB Care Plus
Fabian Nösing, Marketing Director at notebooksbillger.de, on the cooperation with hepster:
"We place very high value on offering our customers a consistently flexible and customised buying experience. This also includes a comprehensive range of services. Accordingly, we are pleased to be able to offer our customers even more flexibility and strong protection for their electronics through the 'NBB Care Plus' insurance offer with hepster."
Flexibility can be that simple.
A full 44 % of all customers now buy their electronics online - and notebooksbilliger.de is one of the leading providers in Germany. With the entire range of consumer electronics, smartwatches, laptops, cameras and more, customers are spoilt for choice. The range is as diverse as it is flexible because online retailers meet the needs of their customers exactly.
Find out more about how notebooksbilliger.de creates maximum flexibility for its customers by expanding its range of services and insurance.
Affordable for your customers, no extra costs for you.
Benefit from strong customer loyalty and create a new revenue stream through our commission models. Your cost factor? Doesn't exist, because you, and we too, want to offer today's customers more flexibility without having to dig deep into their pockets.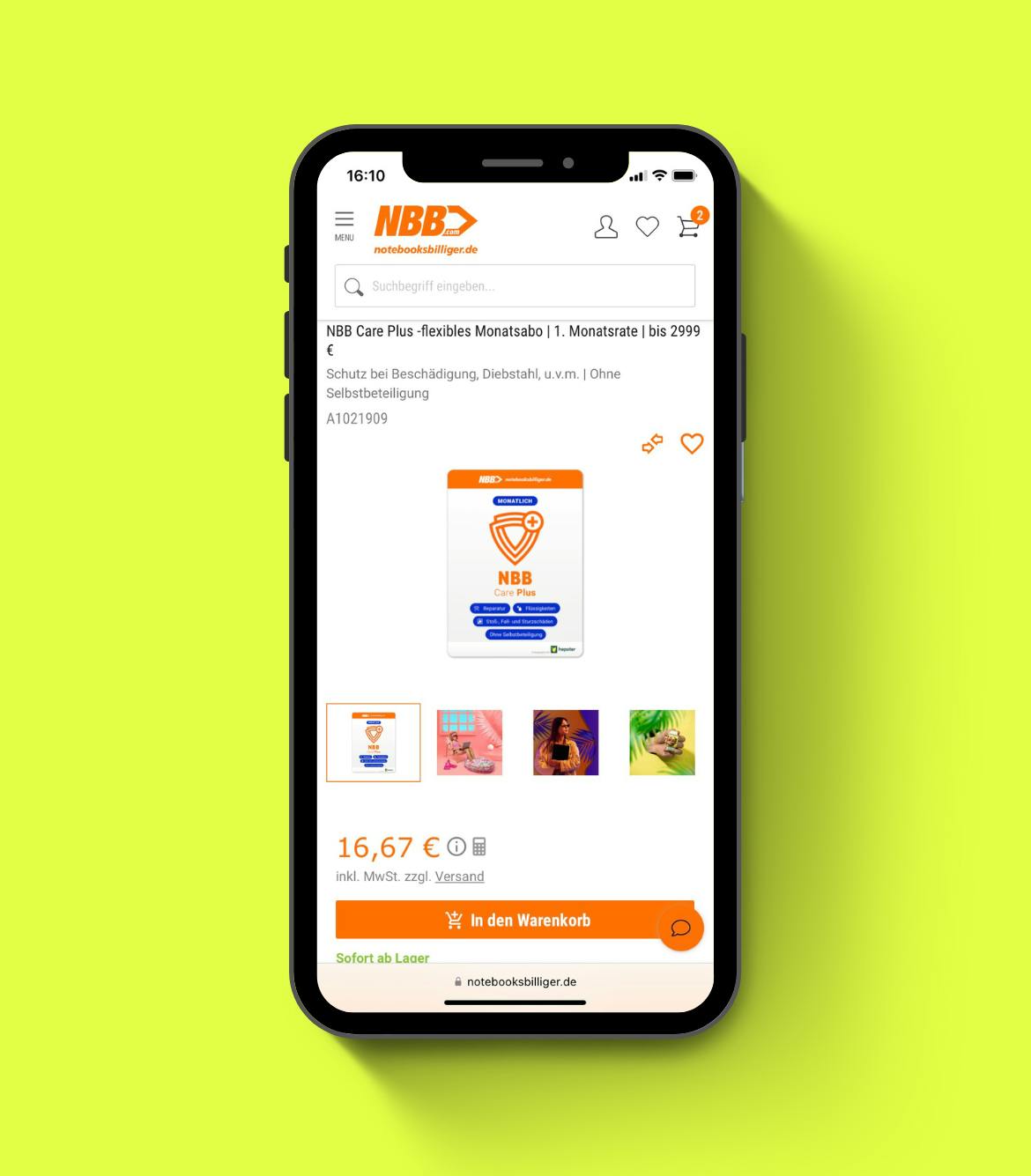 01. A digital shell for electronic devices more
notebooksbillger.de has a wide-ranging product portfolio. No wonder that they already have various additional offers - also in the form of insurance. But why settle for that? NBB's customers want more - more offers, more options and more security. This is where hepster came in: with NBB Care Plus, there is finally a digital cover for electronic devices that is always at your service and more flexible than any other.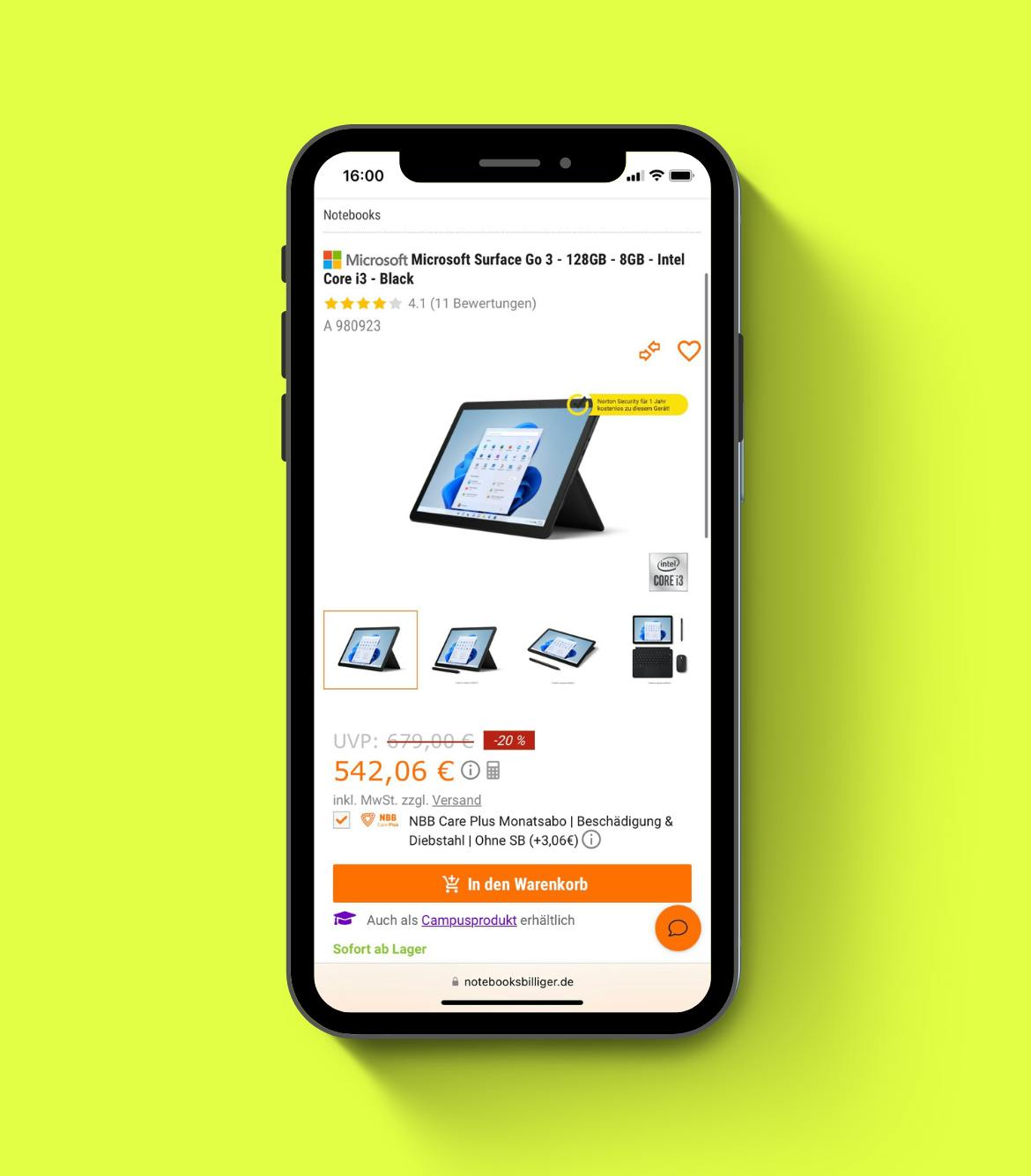 02. Maximum flexibility
Product protection that fits and stands out. For this reason, NBB Care Plus is available in a popular and flexible monthly subscription for all insurable devices. The insurance cover applies worldwide for damage caused by falls, breakage, batteries, weather, theft, robbery and more. The cherry on top is that the insurance includes favourable rates and can be booked without deductibles or waiting periods. It doesn't get much better than that, does it?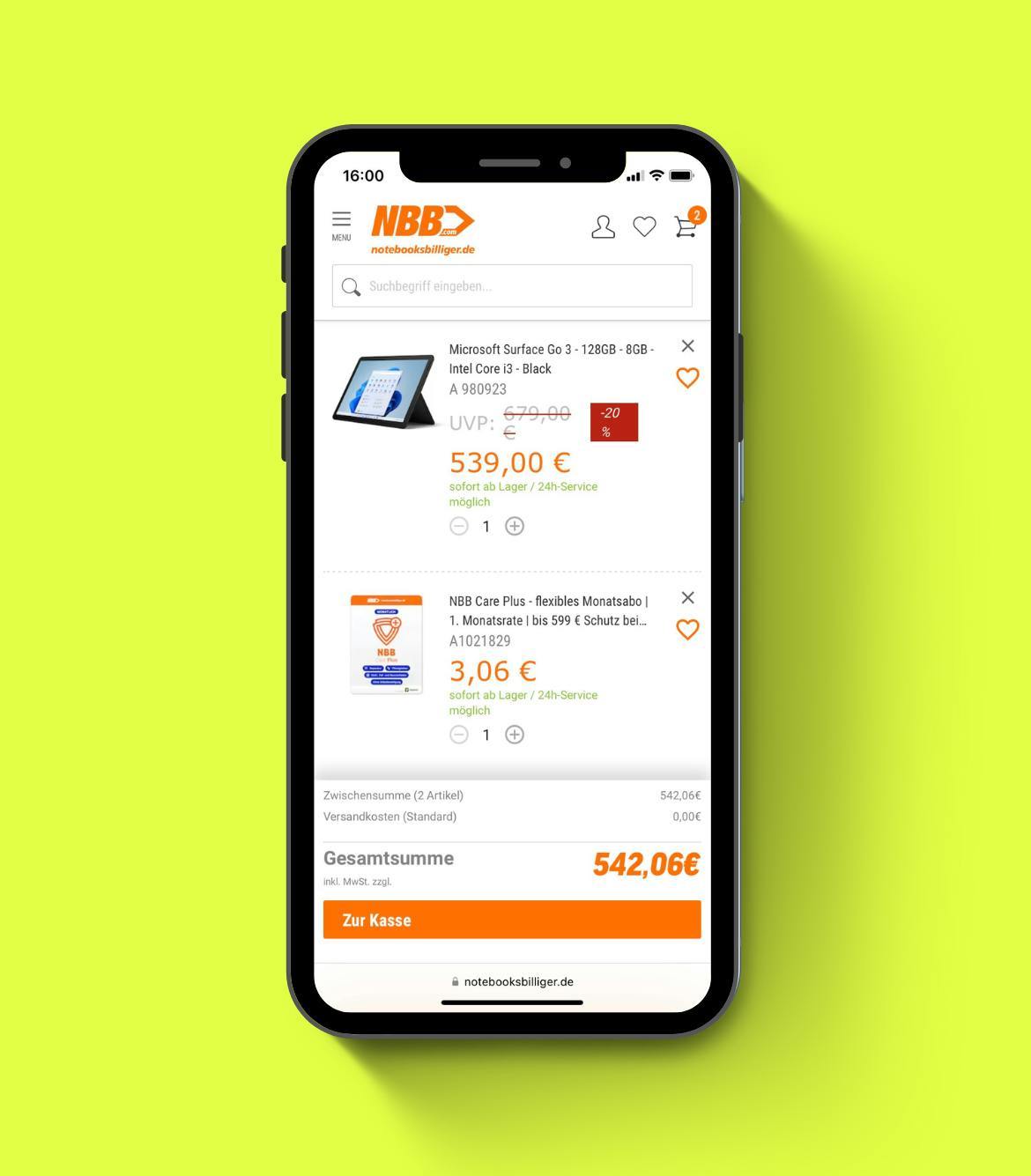 03. Outrageously easy and affordable insurance
From notebooksbilliger.de's colourful range, customers are literally spoilt for choice from countless consumer electronics products. They can add NBB Care Plus to their product with just one click and initially only pay the first month's premium. Once the product has been received, the insurance can be activated and customers pay their premium conveniently and cheaply each month and receive all the documents by mail in no time at all.
Say 'yes' to integrated insurance.
More than half of your customers have already taken out at least one insurance policy directly when buying a product. Add to this the high risk of electronic devices that are constantly with us and the increased susceptibility of damage to technical devices. Shake off your competition and discover individual insurance for your business model and the needs of your customers.