#hepsterhero stories
Personal development in a start-up? If not here, then where?
It is well known that you grow with your tasks, and with hepster, you can surpass yourself. I grew up at hepster. But what does it mean for me and what has my path at hepster looked like so far, what have I learned? You can find all this and more in my blog. So grab a coffee or drink and dive into my hepster world.
Published 26 Apr 2023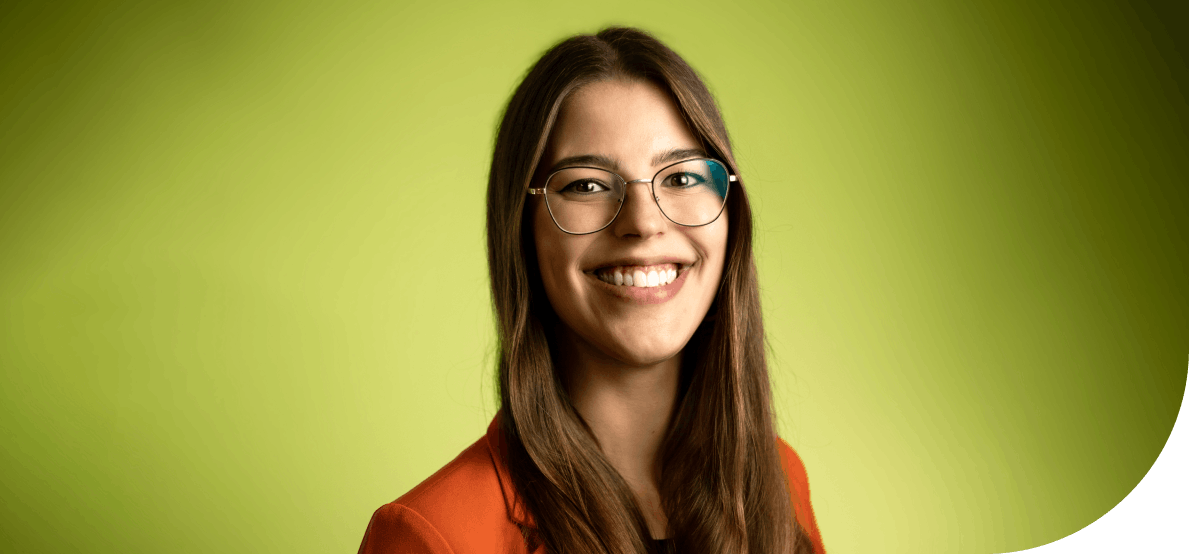 Sarah Gahler | Senior B2B Marketing Manager
A warm "hello!" and have fun reading my hepster story. My name is Sarah, and, as Senior B2B Marketing Manager, I am responsible for the strategic and professional development of our B2B marketing, with everything that goes with it. On July 16, 2019, my hepster journey began as a working student. Almost four years ago. And here, I'm giving you an exclusive behind-the-scenes on how my role and position within the team have changed over the years and what my degree in humanities has to do with all of this.
You'd rather watch my story as a video? Go this way to see the video of my hepster story
What does studying literature and insurance have in common?
So far, my career seems pretty classic. After graduating from high school, I moved to Rostock to go to the university with no plan whatsoever as to what I wanted or should do or where I might end up. I've always had an outstanding knack for English, literature and everything that goes with it. Logical conclusion: I started to study English and American studies in combination with Communication and Media studies to get my bachelor's and then master's degree.
Even while studying, I often asked myself what the hell am I supposed to do with my degree in humanities? How do I even earn money with it? I knew I didn't want to stay in an academic environment after graduating, so I needed a game plan.
So I had a few part-time jobs to find out what I wanted to do. Besides some voluntary PR for local animal welfare, I did some work in translations, advertising and content marketing. Over time, it became clear: "I want to continue writing and do something creative."
But everyone knows the small and large prejudices against the humanities and their chances in the job market. I had some self-doubts at the end of my master's degree while looking for my first real job. I came across hepster more or less by accident via an Instagram ad. hepster what? Insurance with a subscription model, like Netflix, how can that work? So far, I haven't had much contact with insurance companies. Sure, you have your health insurance, you need liability insurance and might have occupational disability insurance, but that's about it. hepster was looking for a working student in content marketing, and although I hadn't had much time left as a student, I took the opportunity - and was quickly invited to an interview. I still have those emails in my inbox.
Oh boy, was I nervous! Because I wanted this job, not just as a working student, but also after I graduated. After Hanna and Christoph put me through my paces in my job interview, I knew: "I fit in here. Not sure exactly how yet, but I'll fit in." Now almost four years later, I still say - yes, hepster and I, we are still an amazing match.
From working student to PR manager to B2B marketing
As Content Marketing Manager, I was responsible for creating and maintaining the content of our webshop and many marketing materials. Flyers, presentations, proofreading, and so on. And I knew nothing about insurance. But whenever I didn't understand or didn't know something, someone was there who could help me. This mutual support within the entire team and across all departments is something that I really appreciate to this day. While terms and conditions, insurance benefits, exclusion clauses and such only left me with a lot of questions at the beginning, shortly I knew more about insurance than I would have ever thought.
After just a few weeks, I was supposed to write my first press release for hepster, with nothing but a few key points at hand. Quickly, PR played a highly important part in my daily tasks, especially after I joined the hepster team full-time. My responsibilities grew quickly, so I was responsible for building, supervising and implementing our PR department from scratch. Writing press texts - no problem. But calling and following up with journalists, being persistent to place our statements in relevant media and, also, setting up the whole strategy and reporting? Phew, that was all way out of my comfort zone. But sometimes, you just have to jump in at the deep end and not let fear stand in your way.
The result: in 2020, 2021 and 2022, we were able to expand our media presence so much that the number of hepster mentions in online and print media grew by 150% every year.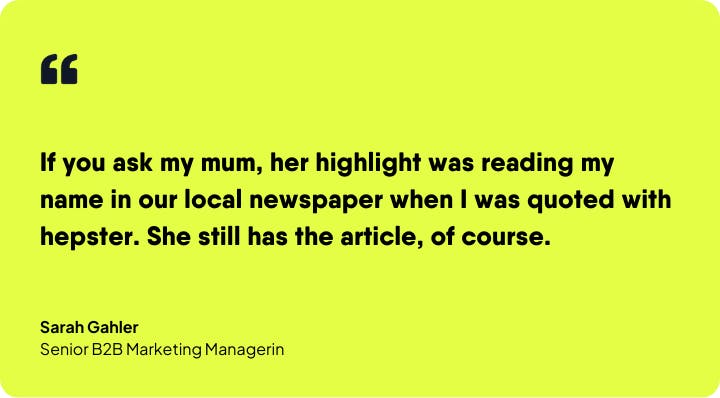 But in autumn 2021, it was time for a new challenge. Even while I was responsible for our PR, I continuously worked on many topics within our B2B marketing and I can rightfully claim: I know hepster, our business model and our insurance and solutions inside and out. So it was almost a logical consequence that I continue to develop my strengths in B2B marketing. And here, too, I thought, do I dare to do this? Do I want to jump in at the deep end again? The answer was easy: hell, yes!
So I took on the position of Senior B2B Marketing Manager and have been responsible for the strategic and conceptual development of our B2B marketing ever since. Together with Natalie and the marketing team, we support our sales team with campaigns and materials, lead generation, partner acquisition, onboarding and after-sales.
Of course, in the hectic day-to-day life of a scale-up like hepster (we'll always remain a start-up at heart), there are also some points where I grind my teeth. In many areas, our flexibility and agility are one of our greatest strengths, both as a company and as a team. But that also means plans are sometimes thrown completely overboard at short notice. As a person who loves writing lists, making plans and being well organized, I sometimes find this difficult, but as we all know, some plans start without any plan at all. 😉
My best hepster experience: I can count on my team!
In addition to all our daily tasks and challenges at hepster, our greatest strength is and will remain: The hepster team. It doesn't matter whether it's about supporting each other, forging ideas together and finding solutions - the cohesion in the team is what I love most about my job. Because even in stressful times, I can rely on my colleagues, and we celebrate our successes together.
But what I love much more about hepster - you will not only find colleagues, employees and an incredibly great team here. If you want, you can find great friends with us that you can also count on outside after work. When I moved a few weeks ago and needed much help with the move, setting up furniture and the like, I couldn't believe how many of my team were there and ready to help on short notice. And I'm incredibly proud of that and unbelievably grateful to have found such wonderful people here. ❤
And besides that?
If I've learned anything in almost four years at hepster, it's just to trust yourself. Take the risk, apply for the job, accept the challenge and don't be afraid to make mistakes.
You are not sure whether you will find a job at hepster? Then I can only say:
Dare it. Unless you try, you'll never find out.
Be yourself. At hepster, you can find your way and discover your strengths.
Our hepster parties are legendary. You just have to experience it.
We have the best team in the world.
Start your hepster story
Are you ready to write your hepster story? Then take a look at our job offers now.